3 juin 2008
2
03
/

06
/

juin
/

2008
03:23
Neuhuys talks of Dada in Paris (which was in any case its end) and he misses the real departures : Zürich 1916, three of four months after the first number of SIC. Naturally, Dada in Berlin, in 1918, very revolutionary, very determined, is missing, too, and I wonder whether Tristan Tzara is not responsible for this omission, as he was one of the creators in Zürich and not at all the creator of the anti-group.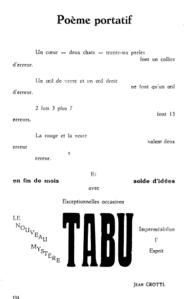 "Poéme portatif " by Jean Crotti,
ça ira!
, number 16, November, 1921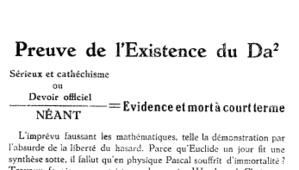 Prose by Christian,
ça ira!
, number 16, November, 1921
This leads me to a famous number of Ça Ira!, the peak, the Dada number with Céline Arnauld, Pierre Albert-Birot, Christian, Jean Crotti, Éluard, Pierre de Massot, Pansaers, Benjamin Péret, Picabia, Ezra Pound, Georges Ribemont-Dessaignes, Renée Dunan. With such an assembly, you can only have to read. I quote just one thing, from an author I had never read, Renée Dunan:
The author may be what he likes: mad, bicephal, solicitor, tetrapod, bolchevik, chimney-sweep of paralytic, oniric or paranoiac, the work can set into motion your mental menagerie: if your senses are moved, of the work lasts and finds an echo inside you, the author is a genius. Any other conception is absurd.
Other names should be mentioned: Pascal Pia, Yvan Goll, Blaise Cendrars, van Tongerloo, Arthur Pétronio, the lovely post-cubist lino-cuts by Pierre-Louis Flouquet, another poem by Renée Dunand, called 'Convexités', a long survey by René Edme, 'Poetariate' (to compare to the mixtures of words so dear to Raoul Hausmann), the illustrations by Ludwig Kassak and Karel Maes.
To conclude rapidly, let us leave Neuhuys after twenty numbers of Ça Ira! with his love of a certain lightness of touch:
Céline Arnauld is a Scheherazade who invents songs for those who, like her, need to calm their anger, their regret. She has deliberately left the traditional paths and leads the joyful pack of images over the sunny hillside.
Ça Ira! brings a breath of fresh air into a house.
Go and read it.
Don't finish it, if you want a glimpse of our new century.
Henri CHOPIN
Poznan, Poland, August 1973.
English version: Jean CHOPIN
Collection OU, 7, Ingatestone, Essex, 1977.