20 mai 2008
2
20
/

05
/

mai
/

2008
00:00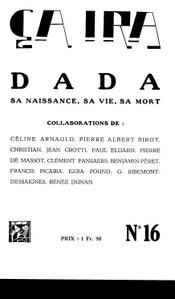 As the review develops, this kind of articles produces answers, to my mind more direct and purer, too, but before coming to them, I can already give a contradiction, from Neuhuys, in a poem called 'Ambiance', which, without theories, is much more lucid, since the expression 'being sentimental' can be applied to ther whole poem, though it is still true today :
Those who read the financial papers
And have a place in the Stock Exchange.
Some of them are journalists
Waiting for fires in an editorial room
Another roars by on a motorbike
Another fires a revolver at an old cauldron
And orders iced drinks at terraces.
Another goes at 60 m.p.h. in his racing car
He'd rather have a can of petrol
Than the complete works of Chateaubriand.
And it's the same one
Who goes on the wooden roundabout horses.
Some discuss the pleasures of eating,
They swallow kilometres.
Others hold forth on the pleasures of sex:
Their conversations swing
From Françoise's tits to Lili's navel
Which must provide for the necessities of life.
Each one goes his own little way
They get bored...
They'd like to start the war again
And there are some who sail off
To countries where there are earthquakes
Those who have the honour of earning money
Want to be the shah of Persia
They introduce me to their typist:
Ah, if you'd like me to leave her with you
But on condition that you give her back
At the first demand
They're chaps who interest me
Since for me it's a phenomenon to have a mistress
What rebounds there are in our relationships
They respect cheek
You have to be an acrobat
If you dont't want to slip on the lino
To hear them you'd think the object of our generation
Is to climb on a woman and to bring a man down.
From an extract of this long poem, it would deserve a long study; it represents the preparation of our today.
I can't resist quoting a little more:
To console myself
I think of the defeated countries
Where they haven't a nail to scratch their backsides.
At each instant, Neuhuys in 1973 remarks that his review will soon reach its climax. Another quotation:
The action of Ça Ira! spread to the field of painting and music, Mesens brought us Georges Auric, Erik Satie. Marlier had become the disciple of two painters, Paul Joostens and Floris Jespers. Among the writers, Charles Plisnier, Léon Chenoy, and Pansaers came to us. Plisnier seemed to have taken over the powerful verbal technique of Verhaeren... and Pansaers, the author of Le Pan Pan au Cul du Nu Nègre was leading us towards total terrorism...
Ça Ira! was going to plunge completely into the absurd and its climax was Number 16: the dada number. Dada: limited society for the exploitation of ideas. Subscribe to Dada, the only investment that pays nothing.
Henri CHOPIN
Collection OU, 7, Ingatestone, Essex, 1977.