18 mai 2008
7
18
/

05
/

mai
/

2008
04:03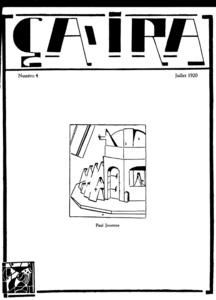 I have pleasure in quoting entirely, way beyond politics, Paul Joostens' poem 'In April' – a painter and poet practivally unknown outside Belgium, whose importance, at least for the years 1917-1925, is equal to Kurt Schwitters and parallel to the great Dada successes:
In April
Thursday morning, nine o'clock. I jump out of the
mouth of a monster. It's raining and the book of
life is grey grey in my lungs. My bowels work like a
rusty machine; the engine is broken, and my brain
is spitting slobber.
Today I'll visit St. Mary's Hospital, in the village.
A soldier has got lost and he's following me.
On a column you can read: I am rotting through immaculation.
An old noble leaves his mistress.
I've seen the lonely wooden soldiers lined up for review.
Guns.
There are a lot of women in the street; there may be
dogs, carts and trams.
Brother, we are God's true dogs.
Our Lord's Vicars stroll along the boulevard;
Perspective breviary.
The pipes flap in the wind.
It is midday. Everyone automatically goes
towards the white tablecloth.
Cousins, nieces, servants, apprentices,
seminarists, nurses, ladies in cloaks, tarts,
tinned-food dealers, everybody who eats. They
swallow saurkraut. They order fruit. They wolf it down.
The cloth is white.
The trams glide by for 15 centimes. A bosom
Shows its cleavage. An English lady in a taxi. Handle.
I buy a book. They ice-skate. Waltzes.
Figures. Curves. Pirouettes.
I love the grandiose kilometric proportions.
I love the luminous spiral.
At twilight they are seated. Ciné. Couples
dive silently.
A car draws up at a bar. Barmaid:
lust.
The Philips lamp buzzes. Night. The monsters
of sleep await.
That is why I must read all of this re-publication, without wondering whether for my notes somebody has been forgotten, somebody else has had no future, or another has deliberately sought the limelight.
The quarrels of poetic synthesis with political anecdotes are constantly illuminated, confronting those who believe in the Russian revolution or those who with all their might call for the dictator-ship of the proletariate, or else you can read ready-made formulae like 'unite', whilst on the other hand you find the myth-destroyers like, Clément Pansaers, the only Belgian Dada, wo died in 1922, already recognised by Ça Ira!, or Picabia, whom U have already mentioned.
You can find there passionate flashes of light or errors which are often pleasant, as in Georges Marlier, for instance:
And that is why it is absolutely indispensable to oppose ruthlessly these false modern artists, more harmful than vulgar impressionist painters, who at least have the merit of cynically displaying the poverty of their thought and the platitude of their inspiration.
I like the old-fashioned term of 'vulgar painters' as I find impressionism so old-fashioned and yet at such fabulous prices. But what is assumed to be an error by Georges Marlier does not seem to be a mistake to me.
Henri CHOPIN
Collection OU, 7, Ingatestone, Essex, 1977.